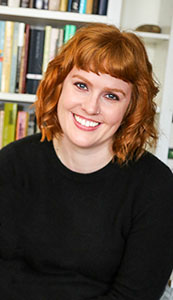 Superintendent
Theresa Rappaport
Theresa is an education leader with more than ten years of experience in charter school administration. Her passion for education and helping others led her from Kansas to Texas in 2007 to serve two years as an AmeriCorps volunteer. This experience allowed her to enter the world of education, where she served in roles ranging from special education to school finance. In 2010, she served as a Hogg Foundation Mental Health Policy Fellow for the National Alliance on Mental Illness (NAMI) Texas. Theresa believes in the value of service and is an active member of the Junior League of Austin.
Theresa earned a BA in Social Work from St. Edward's University and an MA in Educational Administration from Lamar University. She holds multiple teaching and administrative certifications from the Texas State Board of Education, including Principal EC-12 and Special Education.
Theresa joined The Excel Center in 2015 as the PEIMS Coordinator, then quickly took on additional duties for special education and became Assistant Superintendent of Administration and Programs in 2018. She believes in the mission of The Goodwill Excel Center for Adults and is honored to support the hardworking students and staff who are changing lives.
Theresa's husband, Adam, is a high school teacher for Austin ISD. They have two daughters and a pet rabbit named Bun Bun. They enjoy going on walks, playing board games, and watching the latest Nicolas Cage movie.
SUPERINTENDENT'S CABINET
Susan Hunt – Senior Director, Student Supports | Leticia Serna, Senior Director, Strategic Initiatives | Valerie Swift – Senior Director, Marketing Communications | Jeremy Thomas – Senior Director, Career Education
Board of Directors
District Governing Board
Margaret M. Moten – Term 3 22 – 24
Board Officer, Chair
Mohan Kharbanda – Term 2 22 – 24
Board Officer, Vice Chair
Richard Shields – Term 1 19 – 22*
Board Officer, Treasurer
Anna Denton – Term 2 19 – 22*
Board Officer, Secretary
Issam (Sam) Bakir – Term 3 19 – 22*
Delbert Bray – Term 2 22 – 24
Wes Burke – Term 1 20 – 23*
Mike Clifford – Term 2 22 – 24
Ted Delisi – Term 1 20 – 23*
Inaugural Goodwill Education Board President
Mojdeh Gharbi – Term 2 22 – 24
Corky Logue – Term 1 20 – 23*
Catherine Savage – Term 1 20 – 23*
Justin Wood – Term 1 20 – 23*
GOODWILL EDUCATION BOARD
Rob Neville – Term 1 22 – 25
Board Officer, President
Delbert Bray – Term 2 18 – 24
Board Officer, Secretary
Mike Clifford – Term 1 22 – 25
Ted Delisi – Term 2 20 – 23
Mohan Kharbanda – Term 1 – 19 – 22
Margaret M. Moten – Term 1 19 – 22
Justin Wood – Term 1 20 – 23
*one extended term