TODAY IS THE LAUNCH OF THE NEW EXCEL CENTER WEBSITE!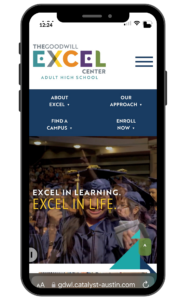 January 26, 2023 – It's here! We're excited to introduce you to our brand-new website! This project has been operating behind the scenes while we go about the 'business' of running a school, but now we're proud to launch our updated site, which we expect will provide a more enjoyable experience for all users.
Excel Center President and Superintendent Traci Berry said, "We launched our original website with the school in 2014 – it was time for an update! We're especially pleased about the mobile-friendliness of our new site, which makes access for potential students, team members, and the general public that much easier."
Special thanks to our partner, Catalyst, for designing this fantastic new site. We look forward to it being a resource for adult learners for years to come!