SCHOOL YEAR 2023/2024 MARKS OUR TENTH YEAR OF OPERATIONS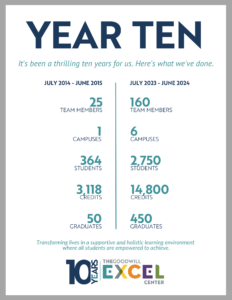 August 15, 2023 – Today is the start of Term 1 of the 2023/2024 School Year for Community Schools, and it also kicks off our tenth anniversary! 
Our first year of operations was School Year 2014/2015, and how far we've come! What started with one Austin community campus, twenty-five team members, and a graduating class of fifty people has become six campuses, one hundred sixty team members, with the most recent graduating class of 356! 
In 2013, the Legislature and Texas Education Agency authorized our proposal for the first high school model where adults aged 18 to 50 could earn their diplomas and complete training to begin a high-demand career. At its core, Excel maintains the fundamental tenet with which it started when we opened our doors in 2014 – whole-person support.
We are excited to celebrate our anniversary with student, alum, partner, and faculty and staff events throughout the year. Be sure to follow us on social for details!